Skip to main content
It looks like you're using Internet Explorer 11 or older. This website works best with modern browsers such as the latest versions of Chrome, Firefox, Safari, and Edge. If you continue with this browser, you may see unexpected results.
Welcome to this guide to the library resources that you can draw on to establish your own self care routine.
On the HOME tab you will find some of our recommended resources as well as some links to services that you can access for further support with managing your health and wellbeing. University is not just about studying, and maintaining a healthy mind and body isn't either, go to the WATCH & LISTEN tab to see some of our favourite videos and podcasts for an important break from study. Under EXPLORE you'll find a more in depth look at some of the books and e-resources that you can access via the library and remotely.
Our wellbeing is as multifaceted as we are; there are lots of ways to promote good health and as such we are inspired by the five ways to wellbeing model. For more information see the NHS 5 steps to mental wellbeing and the New Economics Foundation's guide to wellbeing during the pandemic.
Recommended Resources of the Month: March
Get into a healthy sleep routine
Quality sleep has an enormous impact on our health and wellbeing. Poor sleep can also be an indicator of life stresses, such as feelings of overwhelm around work deadlines. Here are some useful tips from the sleep foundation on how to create good 'sleep hygiene' and enjoy a restful night's sleep.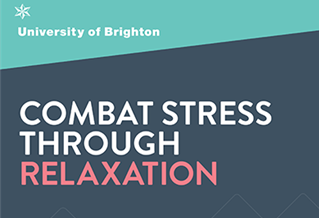 Wellbeing service guides
Our very own Student Wellbeing Team has put together a fantastic range of guides on topics such as relaxation, sleep and stress as well as resources focused around the pandemic, isolation and lockdown. These are free to access, very readable and include advice that is really simple to implement in our everyday lives. The guide on combatting stress through relaxation talks you through a couple of guided relaxation teachniques; these take five minutes (unless you're so relaxed you mnage a little longer) and can be drawn upon in those panic moments when thoughts feel overwhelming.
Effect the things you can change with CBT
Each of us may go through periods of negative thinking, destructive moods and mental suffering. These may relate to identity, personal circumstances or events in wider society. With the tools of cognitive behavioural therapy (CBT) you can learn the root causes of these feelings, and adapt your responses to bring about positive change. This ebook is a guide to the techniques used by practitioners, presented so that you may explore your own path to improved mental wellbeing
Further Support
Student Services
The wellbeing of all students is a priority for the University of Brighton. Dedicated support is available from our Student Services team which includes online advice and guidance on a range of issues as well as extra help via our wellbeing services.
UoB Students' Union Support
Support from the Students' Union on everything related to your time in Brighton as a student, whether that is housing, education or wellbeing. Plus the popular Quarantea and biscuits, providing a virtual space to come together and share information.
Togetherall
The University is signed up to Togetherall, an online service and community that provides support with anxiety, depression and other mental health isues. Login with your University username and password to access the service and find out more.